Eye News Tampa Bay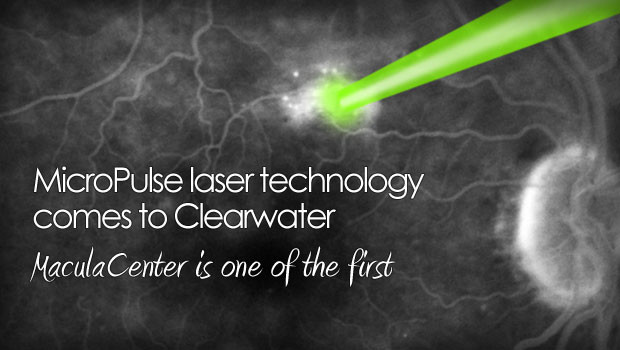 Published on November 15th, 2016 | by ddeupree
MicroPulse Laser Therapy for retina and glaucoma
Clearwater's Macula Center is among the first retina practices in Florida to employ the new MicroPulse Laser Therapy for treating retina disease.
MicroPulse is a new laser technology that can safely and effectively treat patients with retinal disorders such as diabetic macular edema, diabetic retinopathy and central serous retinopathy. MicroPulse laser can also be used to lower intraocular pressure in patients with open-angle glaucoma.
Retinal laser treatment has been around for decades. What sets MicroPulse technology apart is its ability to reduce treatment risk and practically eliminate patient discomfort. These qualities allow for repeat treatments with less risk than conventional laser.
MicroPulse laser technology works by segmenting the laser releases into spaced, repetitive "micropulses". This provides better surgeon control and lower energy output – reducing the chances of heat-damaging effects on the retinal tissue.
MicroPulse is also ideal for treating some forms of glaucoma. Traditional eye drop therapy for the management of open-angle glaucoma presents the challenges of patient compliance, high costs, and side-effects. MicroPulse laser trabeculoplasty (MLT) for glaucoma can eliminate the need for eye drop medications. MLT provides the same eye pressure lowering benefits as the traditional Selective Laser Trabeculoplasty (SLT) treatment, but is safer due to its lower energy output. MLT reduces the amount of post-treatment complications, like inflammation and eye pressure spikes, that can be seen with SLT treatments.
For more than 24 years, Tampa Bay retina specialist, Dana M. Deupree, MD, FACS, has successfully treated vitreo-retinal eye disease and its complications. Dr. Deupree is a board-certified ophthalmologist, vitreo-retina specialist and surgeon. At his state-of-the-art eye clinic, The Macula Center, located in Clearwater, Dr. Deupree treats thousands of retina patients every year. He has equipped The Macula Center with the latest technology — most recently, the MicroPulse Laser.
After performing a detailed dilated eye exam, Dr. Deupree will use high-definition imaging technology to help him make an accurate diagnosis and determine whether MicroPulse laser is the right choice for the patient's eye condition. The procedure takes only minutes and the patient will have no activity restrictions afterwards. Many patients notice a visual improvement in the first week or so, though it can take a few months to realize the full scope of vision improvement from MicroPulse laser treatment.
MicroPulse laser therapy is an ideal first-line treatment for patients suffering from retinal disorders and open-angle glaucoma.
Dr. Deupree is accepting new patients currently. To schedule an appointment to see Dr. Deupree, or for more information, call The Macula Center today at (727) 789-8770.
See also: Iluvien treatment for diabetic macular edema