Diabetes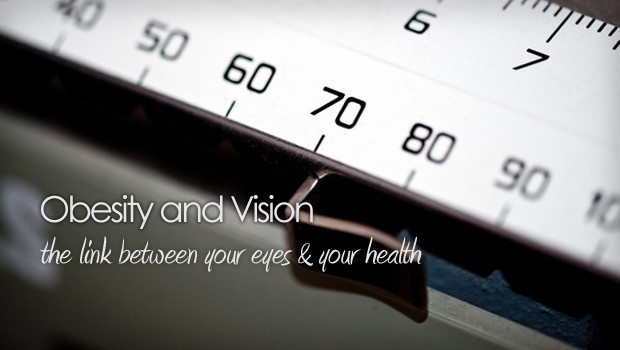 Published on August 9th, 2012 | by ddeupree
Obesity and vision are directly linked
Vision quality is directly linked to obesity
Obesity is a serious growing public health problem. In the United States, obesity has doubled in adults and overweight prevalence has tripled in children and adolescents since 1980.
According to the Centers for Disease Control and Prevention, there are over 130 million people in the U.S. that are either overweight or obese.
Researchers for CDC estimated that in 2003, in the U.S. alone, medical expenses related to obesity reached $75 billion. This is an epidemic that needs to be reversed.
Overeating, coupled with a sedentary lifestyle, are the main causes for the recent accelerating rate of obesity.
Obesity and vision
Studies show that excess body weight predisposes a person to various systemic diseases that can cause vision loss — particularly cardiovascular disease and diabetes.
Some eye diseases are among a large number of medical conditions that can be associated with obesity. For example, since diabetic retinopathy and macular degeneration are directly related to the vascular system and excess weight is known to create pulmonary problems, the blood vessels in the eye are affected and vision can deteriorate.
Other eye conditions that can be caused by high blood pressure and high cholesterol because of obesity are hypertensive retinopathy and retinal vein occlusion.
Weight control
It is important that we control our weight in order to maintain healthy vision throughout our lives. Weight control is a life-long effort that should be taken seriously. Here are some tips on how to maintain proper weight and health:
Eat fewer calories.  A great online calorie tool can be downloaded at www.calorieking.com. You must burn or have a deficit of 3500 calories to lose one pound of body weight.
Exercise
A brisk 20-30 minute walk, 4 times a week can greatly increase cardiovascular health.  The American Heart Association has encouraged a goal of 10,000 steps a day which can be monitored by a very inexpensive pedometer. Don't be intimidated by this large number of steps — ALL steps taken during the day count!  In other words, if you park toward the back of the parking lot or take the stairs, you'll increase your steps.
Use a heart rate monitor during exercise to keep yourself within your physician's advised targeted zone.
Also see Avoidable Macular Degeneration Risk Factors
Refs: Habot- Vilner, Z., Belkin, M. "Obesity and eye diseases" Harefuah: 144: 805-809, 2005; CDC (2004-01-21). "Obesity Costs States Billions in Medical Expenses