Eye News Tampa Bay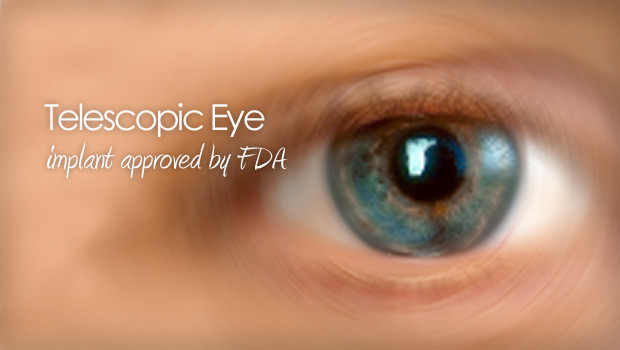 Published on September 29th, 2015 | by ddeupree
Telescopic eye implant has been approved by the FDA
FDA announces its approval of the first implantable miniature telescopic eye for macular degeneration patients
Watch the "How vision works" animation
Update:  Dr. Deupree does not perform telescopic eye implants. The procedure was approved July, 2010 by the FDA. Please contact CentraSight if you have questions.
The U.S. Food and Drug Administration announced in July, 2010 that it had approved the surgical implant of a mini intraocular telescopic eye implant to improve sight in patients with advanced stages of age-related macular degeneration (AMD).
The device works by enlarging the image by approximately 2.2 to 2.7 times its normal size. This larger image falls on a broader portion of the retina, outside the damaged macular area, and enhances the eye's acuity. This helps reduce the "blind spot" or blacked/grayed-out areas of the central vision in advanced AMD patients.
The telescopic micro-optical elements used to enlarge images are housed in a prosthetic device made of polymethylmethacrylate (PMMA), a substance safe for the inside of the eye, previously used in intraocular lens implants. The device is implanted at the time of cataract surgery, so a visually significant cataract must be present in the patient's affected eye in order to qualify for the telescopic eye implant surgery. The telescopic implant is only implanted in one of the patient's eyes. The other eye is left to provide peripheral vision.
The mini telescope, developed by Dr. Isaac Lipshitz, has the potential to provide many AMD sufferers with an increased quality of life.
This procedure will continue to be closely researched by The Macula Center and Dr. Deupree.
Update:  Dr. Deupree does not perform telescopic eye implants. The procedure was approved July, 2010 by the FDA. Please contact the link below with ANY questions.More info: http://www.centrasight.com/centrasight_candidate
ref: VisionCare Ophthalmic Technologies, 7/8/2010