Eye Disease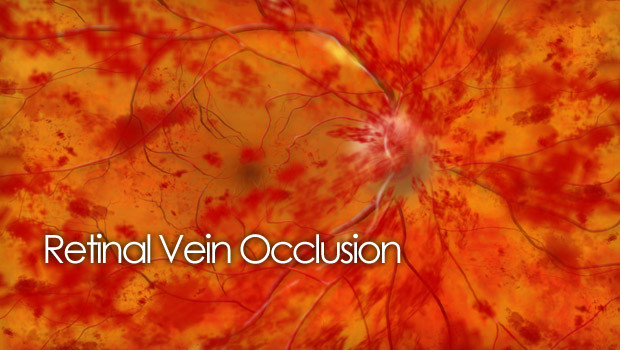 Published on August 2nd, 2012 | by ddeupree
Retinal Vein Occlusion
A patient's guide to retinal vein occlusion – causes and available treatments
What is retinal vein occlusion?
The retina, the light sensitive tissue that lines the back of the eye, is nourished by a fragile network of blood vessels including arteries and veins.
When a vein becomes blocked or "pinched off", some of the blood flowing through the vein can hemorrhage out of the vein wall — this is called a vein occlusion.
A branch retinal vein occlusion (BRVO) happens when one of the smaller retinal veins is blocked. Branch retinal vein occlusion symptoms range from hardly noticeable to extensive loss of vision.
A central retinal vein occlusion (CRVO) happens when the large retinal vein, responsible for transporting blood out of the eye, becomes blocked. CRVO symptoms usually include massive loss of vision.
Both BRVO and CRVO can have associated, secondary conditions such as: macular edema, retinal ischemia (lack of blood flow to the retina tissue) and neovascular glaucoma.
Retinal vein occlusion should be monitored and treated by an ophthalmologist.
Ophthalmological use of Anti-VEGF drugs was originally FDA-approved for the treatment of neovascular AMD. However, recent studies have demonstrated that anti-VEGF drugs can be used safely and effectively for a number of retina conditions that involve macular edema as a secondary complication. Retinal vein occlusion can cause permeability of weakened retinal blood vessels. The result is blurry vision and subsequent macular edema.
The CRUISE trial, which was conducted at The Methodist Hospital in Houston, demonstrated a significant increase in visual acuity in CRVO patients who received Ranibizumab (Lucentis – a popular anti-VEGF drug) injections every month for six months. In fact, the data showed a statistically significant increase in acuity at 1 week after the first injection. These dramatic results are unheard of using traditional treatments like prednisone eye drops.
In addition to the prospective, randomized CRUISE trial, Genentech is in a phase III study of its drug Ranibizumab for treatment of BRVO. The results of this Lucentis trial will form the basis of a supplemental biologics license application being submitted to gain FDA approval for BRVO treatment.