Diabetes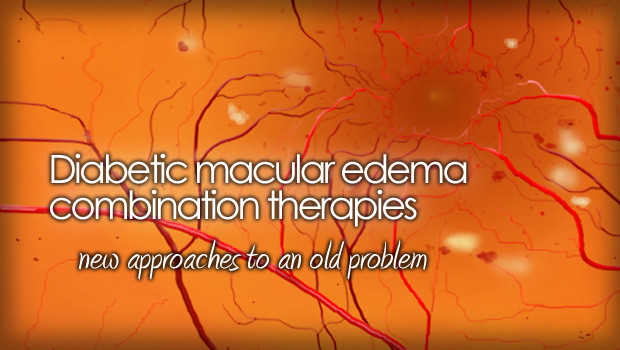 Published on July 1st, 2013 | by ddeupree
Treatments for diabetic macular edema
Diabetic macular edema can be managed by your retina specialist with a customized approach
Diabetic retinopathy is an eye condition causing damage to the small blood vessels in the retina, resulting from sustained elevated blood sugar levels, typically in people with poorly controlled diabetes.
Diabetic macular edema (DME) is the leading cause of vision loss in patients with diabetic retinopathy.
Increased understanding of the causes of DME and new drug therapies being combined with traditional treatments has changed the landscape of standard management of diabetic macular edema.
Causes & treatments
For decades, laser surgery, steroid eye drops and injections were customary treatments for chronic DME. However, with the growing array of individual therapies and combinations of new and traditional treatments, the management of this frustrating disease has been transformed.
The workings related to the cause of diabetic macular edema are many. Vitreo-macular traction, a history of laser treatments, the presence of blood vessel damage, among other existing problems, all must be considered when making treatment decisions. Simply using single treatments that target only one of these problems is no longer the standard.
"Recent research and developments have provided novel diagnostic tools and modern treatment choices for retinal specialists"
Dr. Deupree, here at The Macula Center, will customize treatment for every patient. Even the two different eyes in a single patient. Depending on the root problems of that eye's diabetic macular edema, he will choose the best treatment combinations for that particular problem.
For example, if a diabetic patient has chronic DME and the eye hasn't responded well to steroidal eye drop treatments, Dr. Deupree may combine anti-VEGF therapy with laser or steroids.
High quality diagnostic information is important in making a well-informed decision in terms of combination therapies for each patient. Like using the latest high-definition Cirrus Optical Coherence Tomography along with high-resolution, digital Fluorescein Angiography. These tools gather information needed to form a highly accurate diagnosis and treatment plan.
The multi faceted approach of combined therapy has definitely shown the most promise in treating the complex disease of DME. Patients suffering with this condition will see the growing scope of treatments expand to include new specifically targeted anti-VEGF drugs, genetics, and therapies that will slow or even reverse macular blood vessel damage.
Future of diabetic retinopathy treatment
Numbered are the days where every patient with DME receives one single treatment. Combination therapies will become the norm in the retina specialist's office. Advances in laser technologies, newer anti-VEGF drugs and drug delivery systems, more advanced and simplified vitrectomies are in the near future for diabetic patients.
**UPDATE
The MicroPulse laser has been added to the treatment options here at The Macula Center. As of April, 2015, there are only a few physicians in Florida using this technology. We have had great success in treating diabetic macular edema and glaucoma with MicroPulse. It may become the mainstream go-to treatment for this disease.
Call our office at 727-789-8770 for an appointment today to schedule an exam for MicroPulse evaluation.