Eye News Tampa Bay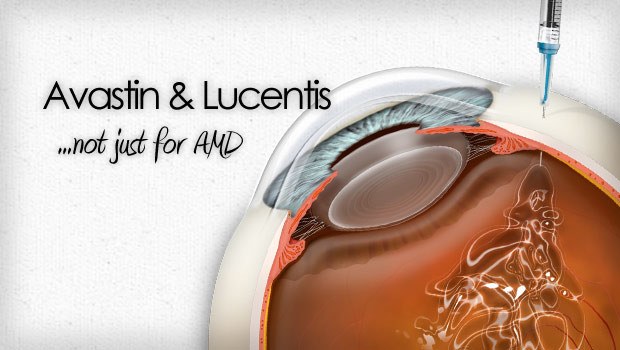 Published on August 8th, 2012 | by ddeupree
Anti VEGF for retinal vein occlusion and diabetic eyes
Anti VEGF drugs have changed the landscape of eye care. They're not being used exclusively for macular degeneration any more.
By now, most people, especially those suffering from wet macular degeneration, have heard all about the latest anti VEGF injectable eye medications – Macugen, Avastin and Lucentis.
This new family of drugs has changed the way vitreo-retinal ophthalmologists treat macular degeneration, diabetic retinopathy and some other common eye problems. They are called anti-VEGF drugs.
Vascular Endothelial Growth Factor (VEGF) is a naturally occurring chemical in the body. One of its purposes is to stimulate the growth of new blood vessels in order to repair damaged cells that need tissue-healing oxygen – for example, cases of cancer or age-related macular degeneration (AMD).
In "wet", or neovascular AMD, abnormal, hyperpermeable blood vessels (choroidal neovascularization – CNV) grow out through the age-damaged Bruch's membrane, below the retina, and up into layers of the outer retina.

When VEGF over-expresses, it can actually contribute to cell damage, especially in AMD, where the abnormal new blood vessels leak and hemorrhage into the retina causing scarring, swelling and detachment of the retinal pigment epithelium. These conditions will cause markedly rapid vision loss that is quite noticeable, if not debilitating to the patient.
Anti VEGF drugs work by adhering to upregulated VEGF, preventing it from binding to its receptors. This inhibits upregulated VEGF and slows the progression of CNV associated with neovascular AMD.
These anti VEGF drugs are injected intravitreally, typically on a regular basis. Once treatment is started, the patient will need to commit to regular visits to the retina specialist for treatments. Unless some form of extended-release system is perfected and approved, there is no readily available way around this inconvenience.
Anti VEGF medications are not just for AMD
Ophthalmological use of Anti VEGF drugs was originally FDA-approved for the treatment of neovascular AMD. However, recent studies have demonstrated that anti VEGF drugs can be used safely and effectively for a number of retina conditions that involve macular edema as a secondary complication. Common eye diseases, such as diabetic retinopathy, cause permeability of weakened retinal blood vessels. The result is blurry vision and subsequent macular edema.
Recently, ophthalmologists have employed anti-VEGF drugs with great success in treating macular edema. At my Clearwater vitreo-retinal practice, The Macula Center, I have employed anti VEGF therapy since the first drug of its kind was FDA approved and introduced to the market. I have treated hundreds of diabetic retinopathy patients with Avastin and Lucentis and have realized excellent results. Some of these patients had undergone years of retinal laser treatments, prednisone eye drops and Intravitreal steroid injections with limited results.
On Trial
One frustrating retina condition, central or branch retinal vein occlusion (CRVO / BRVO), can involve severe secondary macular edema that can take more than a year of steroid therapy to get under control.
The CRUISE trial, which was conducted at The Methodist Hospital in Houston, demonstrated a significant increase in visual acuity in CRVO patients who received Ranibizumab (Lucentis – a popular anti VEGF drug) injections every month for six months. In fact, the data showed a statistically significant increase in acuity at 1 week after the first injection. These dramatic results are unheard of using traditional treatments like prednisone eye drops.
In addition to the prospective, randomized CRUISE trial, Genentech is in a phase III study of its drug Ranibizumab for treatment of BRVO. The results of this Lucentis trial will form the basis of a supplemental biologics license application being submitted to gain FDA approval for BRVO treatment.
Technology
At The Macula Center, we use Optical Coherence Tomography (OCT) to measure central macular thickness in patients undergoing anti VEGF therapy. These high-definition, objective and topographical studies allow us to track the successes and deficiencies of each treatment on each individual patient.
I am also working with a well-known electronic medical records firm to create automated progression graphs on both individual patients, and my entire patient population collectively. The software will utilize our existing EMR data to demonstrate trends of success and weaknesses in different treatment scenarios. The value of such readily available research data will prove immeasurable in terms of customized patient treatment at our practice.
What's next for anti VEGF medications?
Seeking to address the issue of never-ending, inconvenient monthly treatments, there is a Pharma movement toward novel implantations of extended-release devices for delivery of biodegradable ophthalmic implants that will continually release active agents.
Although an anti VEGF implant has not yet gone to market, biodegradable implants containing corticosteroids have. These are in the early stages of acceptance and usage in the ophthalmic community. Complications like cataract development and intraocular pressure issues must be studied and validated.
Conclusion
There has never been a more vibrant era in vitreo-retinal ophthalmology. The landscape of a retinal specialist's workflow is enormously different than it was five short years ago, thanks to medical advancements.
Today's patients benefit from the pharmaceutical companies' race-to-market of improved anti VEGF drugs, their possibilities and applications. The ideas and theories of what retina medicine needs next are cascading from pharmaceutical research labs and practitioners. The future of vitreo-retina disease treatment is limited only by the amount of dollars that will be invested in getting these drugs and treatment devices to market.
The future of the retina patient looks brighter than ever.