Eye Procedures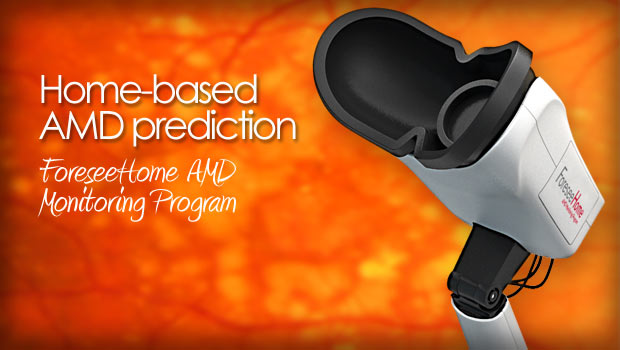 Published on August 1st, 2016 | by ddeupree
ForeseeHome macular degeneration monitoring system you can use at home
ForeseeHome – macular degeneration monitoring at home
Age-related macular degeneration (AMD) is a disease that blurs the sharp, central vision you need for "straight-ahead" activities such as reading, writing checks, and driving. It is a leading cause of vision loss in Americans 60 years of age and older.
Dr. Dana Deupree, MD, a vitreo-retina specialist in Clearwater, Florida who manages and treats macular degeneration says, "AMD causes no pain and in some cases can advance so slowly that people notice little change in their visual acuity. In others, the disease progresses faster and may lead to a loss of vision in both eyes."
What is the ForeseeHome?
Due to its high degree of success, Dr. Deupree recommends the ForeseeHome AMD Monitoring Program to many of his patients – those who are at high risk for converting from dry to wet AMD.
ForeseeHome, an at-home, sophisticated yet simple-to-use system, empowers patients to monitor for signs of advancing wet AMD. By detecting signs of disease worsening earlier, the ForeseeHome device enables Dr. Deupree to diagnose oncoming wet AMD at its earliest stage, thus optimizing outcomes of wet AMD treatment.
The ForeseeHome, a three minute test, often detects worsening of the disease before patients even notice changes in their vision. The device automatically transmits results data to its ForeseeHome Data Center. In the event that the device discovers a pattern of AMD advancement, Dr. Deupree gets an alert from the data center and his staff calls and schedules an appointment with the patient.
"The device provides a safety net for monitoring changes in my patients' vision between office visits, allowing me to detect and diagnose wet AMD at its earliest stage while the patient is at home", said Dr. Deupree.
In addition to Dr. Deupree's observations, study trials have demonstrated that the better the vision at the time of diagnosis, the better the final vision will be after treatment. Consequently, these findings make early diagnosis vital to successful, vision-preserving treatment.
Can I get the ForeseeHome?
ForeseeHome is available to dry AMD patients who are at high-risk of deteriorating to wet AMD. Medicare covers the device and service and it is only available with a prescription from your eye doctor. It is not meant to eliminate or even reduce follow-up exams.
For more than 25 years, Tampa Bay retina specialist, Dana M. Deupree, MD, FACS, has successfully treated vitreo-retinal eye diseases. He is a board-certified ophthalmologist, vitreo-retina specialist and surgeon. He is accepting new patients at his Clearwater state-of-the-art eye clinic, The Macula Center.