Eye Disease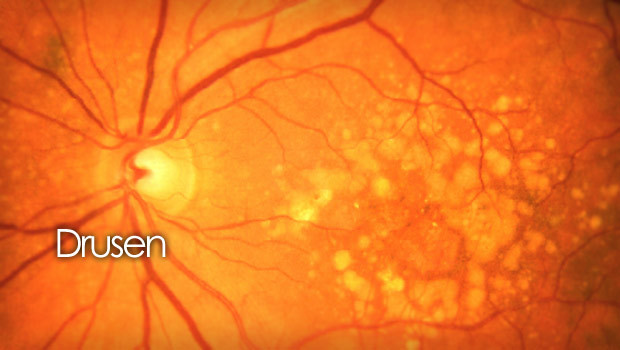 Published on July 7th, 2016 | by ddeupree
Drusen in macular degeneration
Drusen are yellow deposits under the retina. They are made up of fatty proteins called "lipids".
They are often found in people over age 60. Dr. Deupree detects drusen during a comprehensive dilated eye exam. They are the most common early sign of age related macular degeneration (ARMD).
Drusen occur in two different forms: hard and soft
Drusen alone do not usually cause vision loss. In fact, scientists are unclear about the connection between these subretinal deposits and ARMD. They do know that an increase in the size or number raises a person's risk of developing either advanced dry ARMD or wet ARMD. Vision loss is possible if this happens.
Hard drusen
These deposits occur in two different forms: hard and soft. They tend to be smaller with more defined edges. The hard type tend to lie farther apart than their soft counterparts and are usually associated with lesser potential eye disease advancement.
Soft drusen
This type is larger with softer, usually ill-defined edges. They can look sort of similar to a tiny, soft egg white. Soft types usually lie up against each other below the retina and can even "melt" together to form a larger deposit.
It is this soft type that is more prone to wet macular degeneration occurrence, especially when they clump together. These subretinal deposits can cause weakness in the retinal layers that leads to choroidal neovascular membrane (CNVM), a network of abnormal, leaky blood vessels. Patients with drusen should get regular eye exams. Patients with the soft form should get more frequent eye exams.
UPDATE: The ForeseeHome AMD Monitoring Program is a quick, daily, home-based test for those patients who are at high risk for converting from dry to wet AMD. It enables the patient and doctor to predict oncoming advancement of wet macular degeneration at its earliest stages.
See also…
Macular Degeneration – the disease
Macular Degeneration and Nutrition
Macular Degeneration procedures and surgeries