Eye News Tampa Bay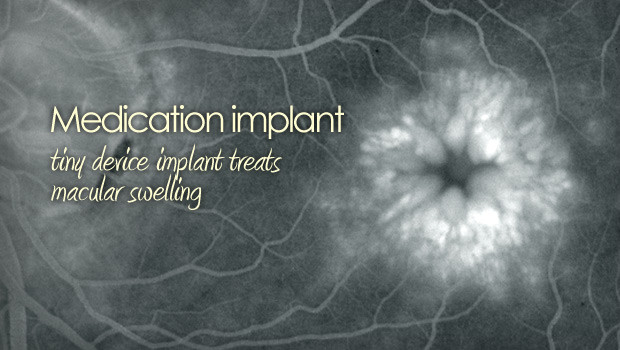 Published on August 13th, 2012 | by ddeupree
Retisert Implant for uveitis
Dr. Deupree uses a breakthrough treatment for chronic posterior uveitis with Retisert eye implant
Chronic uveitis, an inflammation of the inside of the eye, can cause blurred vision, floaters, and difficulty focusing.
These conditions can even lead to permanent vision loss. In fact, uveitis is estimated to be the cause of almost 15% of blindness cases in the United States.
The inner (posterior) portion of the eye contains the vitreous and the retina. These structures can become inflamed and swell during an episode of posterior uveitis.
For decades, vitreous and retina inflammation, including posterior uveitis, has been treated with steroids. Short-acting steroidal treatments include: oral, intraocular and topical applications. The use of oral steroids can cause some undesirable side effects in both the eye and the rest of the body. In severe cases, strong chemotherapy drugs are required — causing even more severe side effects.
Retisert is a new treatment approved by the FDA for the treatment of chronic non-infectious uveitis affecting the posterior segment of the eye. The use of Retisert can eliminate the need for frequent, repetitive oral and ocular steroid treatments.
Retisert, a tiny device about the size of a grain of rice, contains specially formulated ocular steroids. This minute mechanism is implanted surgically into the back of the eye. It slowly releases the anti-inflammatory steroid medication in precise, measured amounts into the eye, on a daily basis for about 2.5 years.
The surgery, which only takes an hour or less, is performed by Dr. Deupree at Safety Harbor Surgical Center in Clearwater, Florida.
Intraocular steroids can cause the fluid pressure in the eye to rise above normal levels. Some patients who receive the Retisert implant will require eye pressure lowering medications within the 2.5 years that the implant is active in the eye.
If you have chronic non-infectious posterior uveitis, call The Macula Center and ask about an appointment with Dr. Deupree to evaluate your eye for possible Retisert treatment.