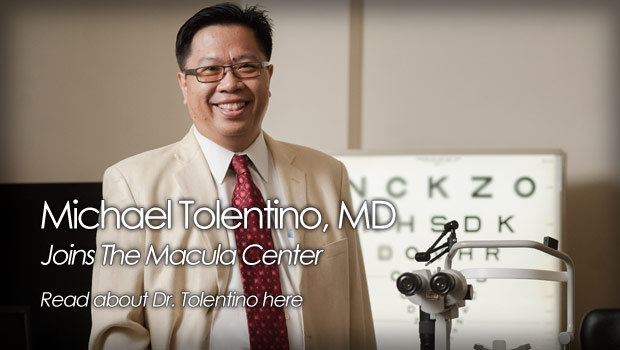 Michael Tolentino, MD | Florida retinal specialist and surgeon

Retinal specialist, Michael Tolentino, is a Board-Certified Ophthalmologist fellowship trained in the treatment of all medical and surgical retinal diseases and laser surgery.
This includes diabetic retinopathy, macular degeneration, macular puckers, uveitis, retinal tears, complex retinal detachments and retinal degenerations such as retinitis pigmentosa.
Dr. Tolentino is the son of Dr. Felipe Tolentino, MD, a pioneer in retinal surgery at Harvard Medical School and author of one of the first textbooks on vitreo-retinal surgery. His father's patients included, the Chancellor of Austria, King of Spain, and Presidents of the Philippines. This passion of innovation rubbed off on his 13-year-old son Michael when he began research on the use of silicone oil for the repair of retinal detachment in his father's Harvard Medical School laboratory.
While attending Brown University, Michael Tolentino, MD, helped develop a cataract imaging system at the National Eye Institute (NEI). In medical school at UMASS he worked under Dr. Elliot Berson at the Berman-Gund Lab at Harvard Medical School studying Macular Degeneration and Retinitis Pigmentosa. This background lead him to the laboratory of Dr. Judah Folkman at Harvard Medical School where he demonstrated the importance of Vascular Endothelial Growth Factor(VEGF) in diabetic retinopathy and macular degeneration and was the first to test and purify Avastin as an eye injection. This research was the basis for the drugs Lucentis, Eylea, Avastin and Macugen. While continuing to develop eye injections, he completed his Ophthalmology Residency at the Harvard Medical School.
He moved to the University of Pennsylvania for his vitreo-retinal surgical fellowship under the guidance of Drs. Stuart Fine and Alexander Brucker. He had a joint appointment as a member of the Cellular and Molecular Biology Faculty at UPENN and ran a NEI sponsored laboratory where he invented a VEGF gene silencing molecule called Bevasiranib. As a retinal specialist, he also researched the use of gene and stem cell therapy for use in retinal disease. In parallel he refined his surgical skills as one of the main ophthalmic trauma surgeons in Philadelphia and the main Veterans Administration retina surgeon for the northern mid-Atlantic region. He eventually became the director of the vitreo-retinal surgical fellowship at UPENN.
After helping develop anti-VEGF medications in the laboratory, the busy retinal specialist moved to central Florida to refocus on clinical therapeutic development and founded one of the largest retinal clinical research centers in the world. He went on to be principal investigator in over 120 retinal clinical trials helping obtain FDA approval for drugs such as Lucentis, Eylea, Iluvien and Jetrea. To pursue his passion for teaching, he joined the faculty of the University of Central Florida Medical School as a Clinical Associate Professor.
He continues to develop new concepts in retinal care and has given over 200 international lectures. Currently he is pioneering the use of triple carotenoid supplements and blue light protection with melanin lenses to minimize or eliminate a patient's need for eye injections. He presented this work as the Jacob Moses Lecturer at Ohio State University, at the Mexican Vitreo-retinal society and the Cambridge University Carotenoid Conference.
He has joined The Macula Center to have the freedom to pursue both novel preventative and therapeutic research. The move will also allow him to treat patients in a caring and compassionate environment that is both state of the art, holistic and spiritually healing.
Dr. Tolentino's Professional Affiliations
Association for Research in Vision and Ophthalmology
American Association of Ophthalmology
American Medical Association
American Society of Retinal Specialists
Club Vit
Association of Filipino Ophthalmologist in America (Board)
Restoring Sight International (Board)
Tolentino Eye Research Foundation (Founder/Board)
Macular Degeneration Association (Founder)
Florida Polytechnic Foundation (Board)
Request an appointment with Dr. Tolentino today!
Related:  Our doctor staff