Eye News Tampa Bay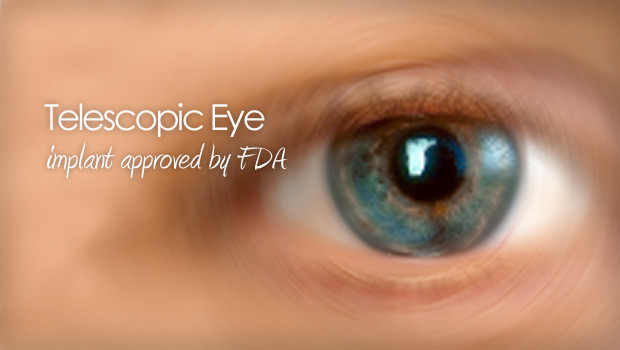 Published on September 22nd, 2015 | by ddeupree
Intraocular telescope eye implant for macular degeneration
Researchers conclude that the intraocular telescope implant is safe and effective.
Update:  Intraocular telescope eye implant for AMD approved by FDA.
At the 2007 American Society of Cataract & Refractive Surgeons Symposium, study results for an intraocular telescopic implant were presented.
The device enhances vision by magnifying images entering the eye by 2.5 times
According to clinical data, the first two patients in the second generation study demonstrated considerable improvement in both distance and near vision.
Dr. Isaac Lipshitz, namesake of the Lipshitz Macular Implant (LMI), says the implant is a promising solution for those suffering from macular diseases, like macular degeneration.
The device is implanted into the lens area, behind the iris. It enhances vision by magnifying images entering the eye by 2.5 times. This larger image allows the peripheral retina, which is typically unaffected by macular problems, to pick up some of the image. Magnifying the image two and one half times allows the healthy peripheral retina to be utilized more than normal for vision. It's as if the patient has a permanent magnifying device in front of their eye.
The very first study patient's distance vision improved from 20/120 to 20/60 and achieved even better results at reading distances.
Dr. Lipshitz estimates that the implant can be beneficial for up to 80% of patients who suffer from macular degeneration.
As of the publishing of this article, this procedure is still under investigation.
Update:  Dr. Deupree does not perform telescopic eye implants. The procedure was approved July, 2010 by the FDA.